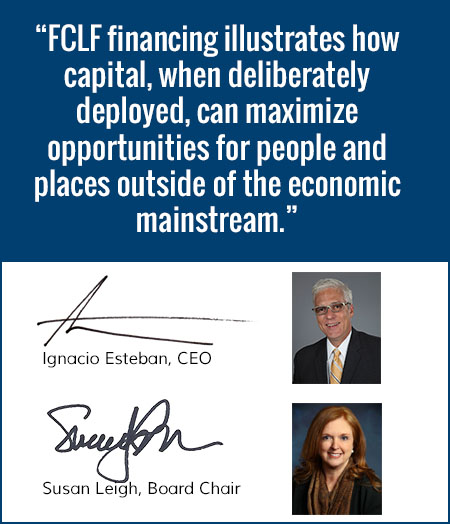 Throughout our fiscal year 2019, Florida Community Loan Fund demonstrated its commitment to Florida's communities. Once again, the projects we were privileged to finance illustrate how capital, when deliberately deployed, can maximize opportunities for people and places outside of the economic mainstream. During 2019, Florida Community Loan Fund:
delivered $54.1 million in financing that expanded opportunities for people and communities statewide;
originated a record $31.7 million in loans – $12 million more than our previous annual record;
provided an additional $22.4 million through the New Markets Tax Credits Program.
And for the first time we can measure our impact in billions:
FCLF's cumulative lending since inception has now leveraged $1.1 billion into projects in underserved communities in every region of the state.
FCLF is well positioned to meet the growing needs of Florida's communities. Total Assets grew to $87.5 million at fiscal year-end, and will reach the $100 million threshold during fiscal year 2020. Net assets grew by 18% to $37 million.
As we pause to mark another year of exceptional mission accomplishments, we are marching forward with implementing our new Strategy in 2020. Our commitment to our communities is clear. We will find more ways to deliver and lead capital to work on behalf of communities. We will use the tools of finance to meet the evolving challenges in the communities in which we work, to achieve social and economic justice, and to expand opportunities for those outside the economic mainstream.
We thank you for your continued support and commitment.
Committed to affordable housing.
Addressing the need for single-family housing, Habitat for Humanity of Lee & Hendry Counties helps families achieve their dream of home ownership.
Affordable mortgages

at no more than 30% of a family's income

$5.3 million FCLF financing

is helping Habitat Lee & Hendry become an organization focused on building neighborhoods

465 new affordable homes

made possible with FCLF financing, across 4 communities
"With FCLF's partnership, we can develop communities where families in need of affordable housing can thrive."− Becky Lucas, CEO, Habitat for Humanity of Lee & Hendry Counties.
Committed to supportive housing.
At the Wayne Densch Center, Ability Housing, Inc. provides a safe, clean apartment and on-site services for formerly homeless individuals.
77 affordable apartments

that are safe and high-quality

On-site services for residents

with a focus on individuals who are formerly homeless

$2.6 million FCLF financing

towards a project with $9 million total costs

$500,000 AHP grant through FHLB-Atlanta,

with FCLF as sponsor
"FCLF's investment in creating permanent housing solutions for our neighbors in need is a testament to their commitment to all of Florida's communities." − Shannon Nazworth, President & CEO, Ability Housing, Inc.
Committed to children and youth.
Using New Markets Tax Credit financing, Boys & Girls Clubs of Palm Beach County is building a beautiful new Teen Center that will offer programs to area youth including academic enrichment, job training, and healthy lifestyles.
13,860 square-foot new construction

for Smith & Moore Family Teen Center

300 youth to gather at new club daily,

70% from families with income below $19,000 annually

$8.4 million FCLF NMTC allocation

towards project with $9 million total costs

400 temporary and 15 permanent jobs

estimated
"We are so pleased to make our teen career readiness center a reality, thanks to the support of FCLF." − Jaene Miranda, President & CEO, Boys & Girls Clubs of Palm Beach County
Committed to collaborations supporting communities.
By partnering with strong community-based nonprofits, the Parramore Asset Stabilization Fund will provide long-term sustainability of affordable rental housing in an area of high poverty.
83 rental units across 44 properties

will be kept affordable in one of Orlando's poorest sections

$15,000 median household income

– 35% of Area Median Income – and 24% unemployment rate

$8 million total project

shared by three financially capable nonprofits
"By combining our strength and capacity, we can achieve more together than we could individually. The three partners are committed to deploying capital in impactful and meaningful ways." − Ignacio Esteban, CEO, Florida Community Loan Fund
Committed to access to healthy foods and healthcare.
The Evans Center in Brevard County stands on the site of a former locally owned grocery store and unites and revitalizes its community with access to healthy foods, healthcare, and programs including nutrition education and job training.
6,000 square feet of new construction

Easy access within walking distance of many neighbors

to fresh food, healthcare, wellness programs, job training and community meeting space

The center's purpose

was identified by area residents through surveys, which confirmed the needs in the community

$700,000 FCLF financing

for construction
"Thanks to FCLF's partnership on this economic development project, area residents are filled with hope and excitement." − Lynn Brockwell-Carey, Project Manager, Evans Center
Summary Statement of Financial Position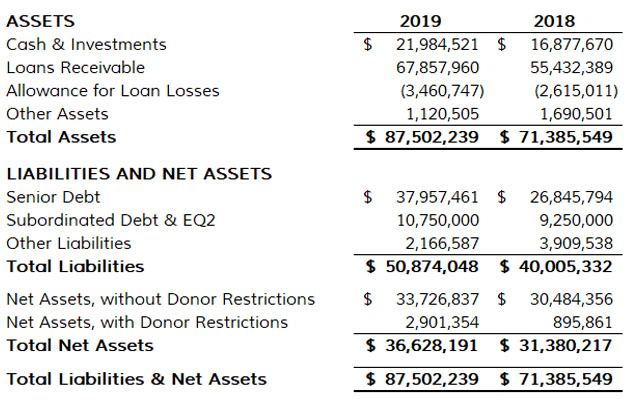 Summary Statement of Activities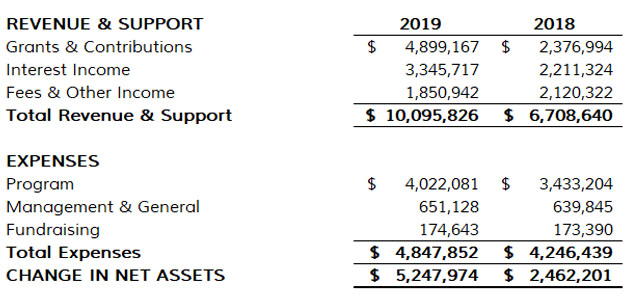 Loan Portfolio by Sector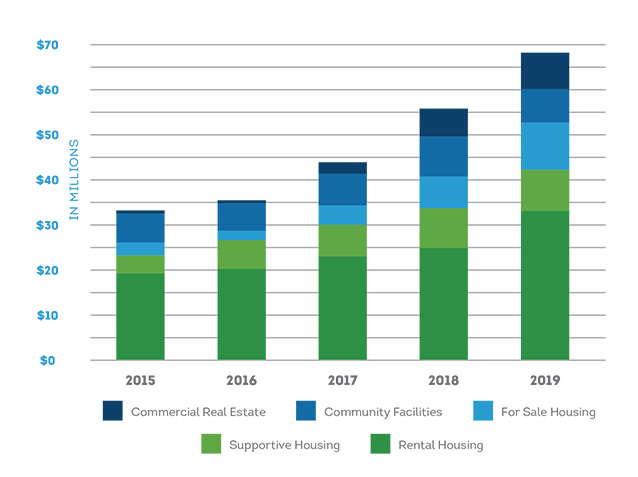 ---
Florida Community Loan Fund is pleased to present our strategy through 2024. This plan is our commitment to our community partners, borrowers, investors, allies, and staff. It ensures transparency and accountability for our work. This is the most ambitious strategy in our 20+ year history and challenges us to increase opportunities for people and places outside the economic mainstream through four goals:
Goal 1: Increase financing in existing lines of business.
Goal 2: Broaden and expand access to responsible, affordable financing in Florida.
Goal 3: Lead through expertise and influence.
Goal 4: Maintain and improve organizational strength and capacity
Core Purpose
FCLF exists to maximize opportunities for people and places outside of the economic mainstream.
Our Vision
Opportunity and dignity exist for every person and community in Florida.
Our Mission
Our expertise and capital make projects successful and help organizations improve lives and communities.
Pictured at top, CDC of Tampa construction of affordable housing. Above, Emma Jewel Charter Academy students.
---