2021 was a uniquely challenging year for the world, the nation, our state, and – just as important – the nonprofit organizations and businesses we serve. Throughout a myriad of challenges FCLF has sought to make Florida, and the communities in which we work, better places for all.
Our theme for the 2021 Annual Report is Connect, Advance, Unite – three key actions that are essential to fulfilling our core purpose of maximizing opportunities for people and places outside of the economic mainstream.
Connect. Our role as connectors takes on many forms: connecting communities to capital, connecting investors to high impact projects; and as one of Florida's premier CDFIs we also connect the Sunshine State to key Federal resources. But our role as connectors goes beyond capital. At the local level, the projects we are honored to support help connect community residents to opportunities that make Florida and its neighborhoods better places to live. Our dedicated community partners help connect people to affordable housing options, access to healthcare, and opportunities for at-risk youth – just to name a few key impacts.
Advance. We also see our role as helping Florida advance. Our lending advances opportunities for people outside of the economic mainstream, particularly those that have been denied those opportunities by systems that perpetuate racial disparities. Every dollar invested must demonstrate a tangible social benefit. Our lending has benefited every region of the state and we've been able to reach communities of color at a much higher rate than any mainstream financial institution. Our collective work helps advance the community development systems that make true community change possible. And lastly, our policy work is effectively advancing efforts to increase community and economic development in low-income communities.


Ignacio Esteban
CEO


Susan Leigh
Board Chair
Unite. Finally, through our work we seek to unite. We help provide the capital that brings communities together in pursuit of better affordable housing and improved access to services. Our borrowers' projects unite community residents with each other. In these deeply polarized and fractured times, the work of FCLF to make Florida and its residents thrive is more important than ever. At its most basic level, each project we support is a building block in the challenging but rewarding task of uniting Floridians of every walk of life and point of view behind the common idea that we can build a better Florida. Making sure that communities have access to the capital they need to flourish is a concept that unites us all.
We are delighted to share this annual report with you, and take time to thank all of our stakeholders – our borrowers, our investors and our supporters – for helping us connect, advance and unite.
---
MAKING COMMUNITIES BETTER PLACES TO LIVE
CONNECTING low-income families to affordable housing
"Thank you to FCLF for your support in building our first 4 affordable single-family homes. This is the beginning of a program that will increase the supply of attainable and affordable for-sale homes in Miami-Dade and Broward Counties." − Rev. Dr. R. Joaquin Willis, President & CEO
The Collective Empowerment Group is a consortium of 40 diverse member churches and congregations. CEG was awarded 26 scattered site lots from Miami-Dade County in 2017 and is building affordable housing.
$600,000 FCLF revolving line of credit
26 affordable, single-family homes for ownership
Located in Miami's Brownsville, Allapattah, and Liberty City neighborhoods
ADVANCING the availability of supportive housing
"People who have a disabling condition should be afforded the same opportunity for the American Dream. By providing quality, affordable housing, people who are disabled or homeless can aspire to do great things as valued members of our community." − Scott Eller, CEO
CASL provides safe, affordable housing and supportive services for 600+ residents – increasing to 1,000+ by the end of 2022 – eliminating homelessness for individuals with disabilities and reducing related costs to the public support system.
$847,000 FCLF financing through 3 loans
Land purchase, acquisition and rehab, and hurricane repair lending
Supportive housing and services for up to 52 individuals with mental illness, substance abuse, or developmental disabilities.
ADVANCING revitalization in low-income communities
"With financing through FCLF, we are able to provide affordable housing for low-income households who have great needs. We are proud when we can rehab a rental home without displacing a family, or offer a new affordable home for ownership to a family. These are the ways that, working together, we can build strong communities."− Christopher Jackson, President
Pathway 2 Success provides affordable housing and homebuyer services since 2009, as well as construction apprenticeship and mentoring programs for low-income students.
$1.1 million FCLF financing, line of credit and term loans
New construction, acquisition, and rehab of affordable homes for sale and for rent
26 homes through FCLF's line of credit
UNITING capital resources with community needs
"Our mission aligns with FCLF's and our partnership is a perfect model for strategically investing capital into communities like Overtown. This allows us to enhance residents' lives through holistic programs that bridge education, health, and economic gaps."− Tina Brown, CEO
Overtown Youth Center's results include 100% of students graduate high school, 95% are attending college or employed, and 98% achieve school advancement on time.
$19.2 million total project cost with $15 million FCLF Federal NMTC allocation
62,620 sq-ft new facility for youth and family services
176 jobs created and retained
5,000 youth and families to receive services annually
Summary Statement of Financial Position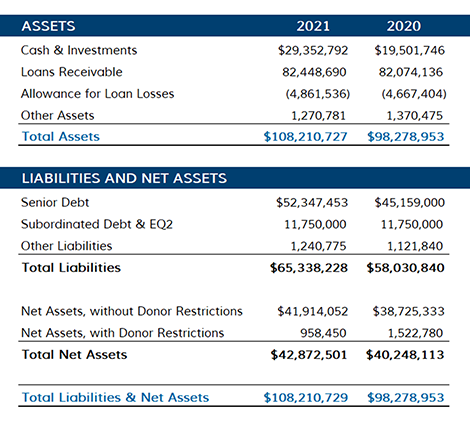 Summary Statement of Activities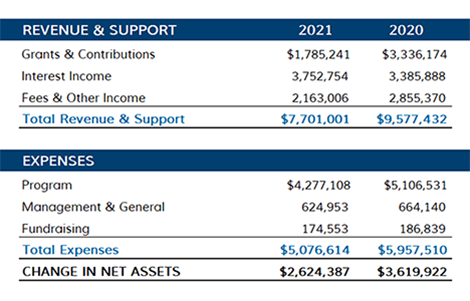 Loan Portfolio by Sector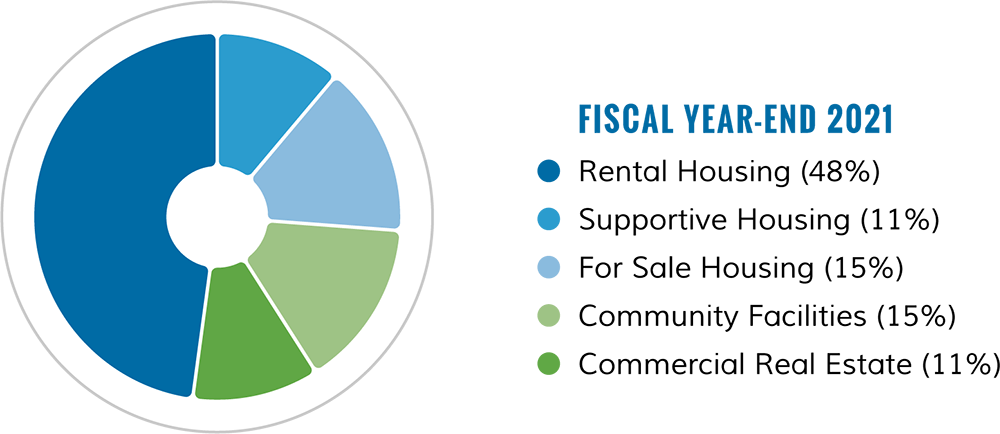 Summaries based on 2021 Audited Financial Statements.
Religious Organizations • Adrian Dominicans • Archdiocese of Miami • Dignity Health • Diocese of Palm Beach • Diocese of Venice • Mercy Partnership Foundation • Oblates of St. Francis de Sales • Our Lady of Victory Missionary Sisters • Religious Communities Impact Fund • Religious of the Sacred Heart of Mary • School Sisters of Notre Dame (Maryland) • Sinsinawa Dominican Sisters • Sisters of Charity of Nazareth • Sisters of Charity of St. Elizabeth • Sisters of Providence • Sisters of St. Francis of Philadelphia • Sisters of the Blessed Sacrament • Sisters of the Holy Names of Jesus and Mary • Sisters of the Sacred Heart of Mary • Trinity Health
Financial Institutions and Corporations • Amerant • Axiom Bank • Bank of America • BankUnited • BB&T • BBVA Compass • BMO Harris Bank • Carlton Fields Jorden Burt Law Firm • CenterState Bank • CIT Bank • City National Bank of Florida • Comerica Bank • Fifth Third Bank • First Horizon Bank • First Republic Bank • Florida Capital Bank • HSBC Bank USA, NA • IBERIABANK • Northern Trust • PNC Bank • Raymond James Bank • Regions Bank • Sabadell United Bank • Seaside National Bank & Trust • SouthState Bank • SunTrust Bank • Synovus Bank • TD Bank • Third Federal Savings & Loan • TIAA Bank • Truist Bank • Trustco Bank • US Bancorp Community Development Corporation • US Bank, NA • Valley Bank • Wells Fargo Bank
Foundations • Bank of America Foundation • Erich and Hannah Sachs Foundation • The Father's Table Foundation • Florida Blue Foundation • JPMorgan Chase Foundation • PNC Foundation • TD Charitable Foundation • Wells Fargo Foundation
Nonprofit Organizations • Enterprise Community Loan Fund • Miami Homes for All • Opportunity Finance Network
Government Agencies • Community Development Financial Institutions (CDFI) Fund of the U.S. Department of the Treasury • Florida Department of Agriculture and Consumer Services, Division of Food, Nutrition and Wellness
Individuals • Anonymous (donations from two individual investors) • The Simmons Family
Includes investors and supporters for the past three years.
FCLF Board of Directors
Susan Leigh, Chair. Principal, The Community Concepts Group
Marilyn Drayton, Vice Chair. Community Relationship Sr. Manager, FL and SE Region, Wells Fargo Bank
Judith Rimbey, OP, Treasurer. Business Office Assistant, Cardinal Newman High School
Victor Rivera, Secretary. Senior VP, Senior Relationship Manager, Business Banking, Bank of America
Tina Brown, CEO, Overtown Youth Center
Ana Castilla, Vice President, Community Development Manager, TD Bank
Jack Humburg, Executive VP, Housing, Development & ADA Services, Boley Centers, Inc.
Annie Neasman, President and CEO, Jessie Trice Community Health System
Claire Raley, Senior VP, CRA/Community Development Officer, BankUnited, N.A.
Germaine Smith-Baugh, President and CEO, Urban League of Broward County
John Talmage, Director, Lee County Economic Development Office
Core Purpose FCLF exists to maximize opportunities for people and places outside of the economic mainstream.
Our Vision Opportunity and dignity exist for every person and community in Florida.
Our Mission Our expertise and capital make projects successful and help organization improve lives and communities.