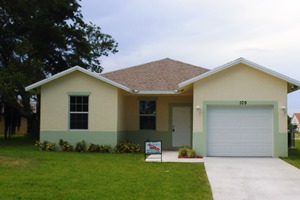 SOUTH REGION
FCLF LOAN $500,000
CONSTRUCTION LINE OF CREDIT
6 to 8 single family homes for ownership 
Boynton Beach CDC was created in 1999 to address the lack of affordable housing in Boynton Beach. The founders – including government, religious, business, grass roots, community and civic leaders – were frustrated with the conditions of slum, blight, crime, poverty and hopelessness they saw in their community.
Throughout its existence, Boynton Beach CDC has made housing for low-income residents a priority. The organization works with area housing agencies, local builders, developers, and government entities to develop homes that improve neighborhoods and benefit low income families. Through a recent grant from the City of Boynton Beach's NSP Program, Boynton Beach CDC acquired and renovated 21 foreclosed homes and constructed 5 new 3- bedroom homes that were all sold to eligible low income buyers. The organization has directly provided homes for 40 families, and has offered homebuyer education and counseling to over 3,000 participants, resulting in 142 low-income families becoming home owners.
In addition to acquisition, renovation and new construction of homes, Boynton Beach CDC offers programs and services in the following areas:
Home Ownership Counseling
Foreclosure Intervention/ Counseling
Housing Development

Financial Education
With a $500,000 loan from FCLF, Boynton Beach CDC will build 6 new homes as well as purchase and complete a major renovation on single-family homes which will then be available for sale to low-income households. Additional funding for the project is provided from the City of Boynton Beach.
This project will provide decent, affordable housing in an area that has seen significant deterioration over the years, improving the neighborhoods and providing opportunity for the local residents.