Florida's only NMTC Award will maximize opportunities in distressed communities.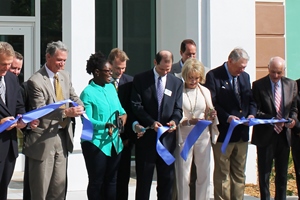 Florida Community Loan Fund (FCLF), a statewide source of flexible financing for community and economic development, announced it has received $45 million in New Markets Tax Credit (NMTC) allocation authority from the U.S. Department of Treasury Community Development Financial Institutions (CDFI) Fund.
The $45 million is the 8th NMTC allocation for FCLF bringing the organization's total in federal allocation to $316 million since the program began. The tax credit allocation will allow FCLF to attract capital investments into large scale, high priority, locally determined projects statewide. FCLF's NMTC strategy focuses on high social impact projects, such as community health centers, emergency shelter and services for at-risk populations, youth education, and those that create jobs.
"With this infusion of $45 million in tax credits we can create lasting impact in Florida and maximize opportunities for people and places outside of the economic mainstream," said FCLF CEO Ignacio Esteban.
FCLF is one of 76 organizations nationwide – and the only organization in Florida – to have received a total of $3.5 billion tax credits. Created in 2000, NMTC has proven to be an essential tool in driving capital investment into the poorest, most severely distressed urban and rural communities across the country… to grow businesses, create jobs, achieve high social impact, and strengthen local economies. To date over 1 million jobs have been created nationally through NMTC projects.
FCLF's previous 7 NMTC allocations have been deployed to 21 projects statewide, providing:
Healthcare services for 37,000 low-income individuals annually
Youth services and education for 20,000 low-income students annually
5,000 jobs created or retained, both permanent and temporary during construction
1.6 million square feet in new or renovated facilities
Examples of FCLF NMTC investments in Florida include:
Lotus Village Miami, providing shelter and a support system to homeless women, youth, and children, as well as on-site healthcare accessible to the surrounding area.
South Florida Museum Bradenton, expanding its footprint with a new facility designed to target disadvantaged youth with STEM education.
Armature Works Tampa, restoring a historic building to provide retail space for local small businesses, access to fresh foods through weekly markets, and creating over 700 jobs.
About Florida Community Loan Fund. Florida Community Loan Fund is a nonprofit, multifaceted financing entity with a 20+ year history of providing flexible capital and expertise to low income communities across Florida. FCLF is nationally recognized for its work as a certified CDFI and CDE through the U.S. Dept. of Treasury and as a member of the Federal Home Loan Bank of Atlanta. FCLF has financed $300 million through 275 loans in Florida, making possible over $900 million in new investments in low-income communities. 
Pictured: ribbon cutting at NMTC project Metropolitan Ministries in Tampa.
Read the press release from FCLF here.
Learn more on the CDFI Fund website.